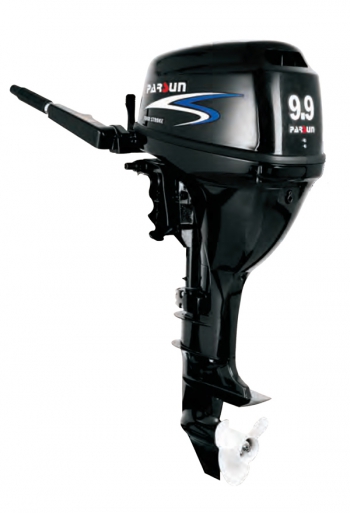 PARSUN FOUR STROKE 9.9HP OUTBOARD MOTORS FEATURES:
1. Innovative CDI ignition system for easy starting
2. Twist grip throttle for easy maneuverability and safety
3. Safety lanyard/emergency shutoff
4. Thermostat controlled water cooling system for consistent engine temperature
5. Heavy duty aluminum propeller
6. Easy to monitor oil level gauge indicator
7. Vibration reduction system
8. Start in gear protection
9. Shallow water drive
10. Ultra low emission, CE and EPA approved
11.24L separately fuel tank and hose
OPTIONS
1. Electric Start
2. Lighting coil and 12V DC output allow you to run a spotlight.
3. Remote Control with electric start
4. Power trim and tilt system
5. Available various shaft lengths, 15, 20 and 25 inches, for multiple applications 
6. 8", 9", 10", 11" different pitch propeller for different boat's request
PARSUN 9.9hp four-stroke outboard motors boast muscular performance despite being light in weight for their classes. Whether fishing a favorite point or taking a leisurely weekend cruise these outboard engines are a delight to use.